ACU-YOGA WELLNESS RETREAT
with Kerry Boyle and Indy Ewald
Thank you for an amazing retreat, look for our announcement of our next Acu-Yoga Retreat coming soon.  
---

Join us for a weekend retreat during beautiful fall foliage in Plymouth, VT, just 1.5 hours south of Waterbury, Vermont
Yoga classes, holistic health seminars, acupuncture, and gourmet organic meals in a beautiful location are offered by experienced yoga teacher, Indy Ewald, and licensed acupuncturist, Kerry Boyle.   This retreat is open for everyone, with all levels of yoga experience.  Our hosts at Good Commons, in Plymouth Vermont, have renovated a century old general store into a solar powered, wellness retreat center with a complete yoga studio and healing arts room.  Good Commons is located in the village of Plymouth Union, Vermont, at the crossroads between Killington and Okemo ski resorts and the beautiful lakes of the Okemo Valley.
What Is Acu-Yoga?
---
Acu-Yoga is an interpretation of two ancient healing principles, yoga and acupuncture, put together.  During our retreat, we'll practice traditional flow yoga as well as experience Kerry and Indy's creation of two yoga classes- Acu-Yoga and 5 Element Yoga.  We'll open our minds during informative health lectures about the basics of traditional Chinese medicine and put our new knowledge to use during Acu-Yoga and 5 Element Yoga classes.  During these movement based classes we'll experience how meridians feels to be stretched, apply pressure to traditional acupressure points during asanas, and experiment with asanas to create balance with our element structure.
Our Schedule
---
| | | |
| --- | --- | --- |
| Friday | Saturday |  Sunday |
|  Check in 4PM |  Morning Yoga and Meditation 730AM |  Morning Yoga and Meditation 730AM |
|  Flow Yoga 5PM |  Breakfast 830A |  Breakfast 9AM |
|  Welcome Gathering 6PM |  Lecture: Qi Flows-The Anatomy of Meridians 930AM |  5 Element Yoga Class 10AM |
|  Dinner 630PM |  Acu-Yoga Class 1030 A | Departure 12PM |
| Group Acupuncture & Meditation 8PM |  Lunch 12PM | |
| |  FREE TIME 12PM-4PM (private yoga & healing sessions) | |
| |  Lecture: Find Your Constitution- Five Elements 4Pm | |
| |  Flow Yoga 5Pm | |
| |  Dinner 7Pm  (followed by wine tasting with Jean-Luc) | |
Holistic Health Lectures
---
Learn about traditional Chinese medicine, take home acupressure techniques and a deeper knowledge about your interrelationships with natural elements. We'll cover meridian theory, yin yang balance, feng shui, five elements, acupressure for health and more over 3 lectures this weekend. Apply your knowledge in Acu yoga class where we chose specific asanas to open meridians and encourage the flow of Qi. Tune in to your self during 5 Element Yoga where we discover our individual relationship with fire, earth, metal, water and wood energies and what yoga postures will help achieve balance of these internal energies.
Indy Yoga
---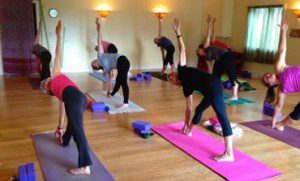 IndyYoga merges mindfulness with asana. This practice of mindful movement relieves physical and mental tension and restores the mind home to the body. A calm mind and comfortable body create the conditions for connecting and listening to one's innate wisdom.
During our retreat together the asana may be slow and gentle or more moderate in pace and designed for all levels. The mindfulness instruction will be constant -to pay attention on purpose without judgment to what is happening in the moment. The yoga sessions will relax and rejuvenate your mind and body clearing the way for learning and experiencing the natural wisdom of Chinese Medicine.
The benefit of being on retreat is the opportunity to go deeper within yourself, beyond the surface tension of life and identity and merge with your authentic self. In this place you will find true rest, insight and inspiration.
Group Acupuncture 
---
Like a cherry on top, optional group acupuncture treatments are included with our Acu Yoga retreat on Friday evening.  Never tried acupuncture before?  No problem, Kerry will walk you through the treatment and your Qi will be flowing in no time.  Receive acupuncture regularly at home?  This general wellness treatment will complement any regular acupuncture you receive at home at not interfere with your treatment plan.
Group acupuncture is provided in comfortable chairs and participants remain fully clothed.  The gentle treatment is great for sleep, stress relief, and pain management.  Kerry is a licensed acupuncturist, nationally board certified in acupuncture and experienced with most conditions.
Local & Organic Gourmet Meals
---
Lovingly prepared by European chef and sommelier Jean-Luc Jenni, 5 organic, local meals will be provided from Friday evening dinner to Sunday brunch. Take a trip around the globe with an optional wine tasting which is included with our event on Saturday evening.  Jean-Luc has been a chef all over the world, from his home in the Swiss Alps to sailing the sea on board luxury cruise liners.  Jean-Luc can accommodate for most special diets, just let us know.  Snacks will be available throughout the retreat to keep you balanced and to-go lunches will be available for those who'd like to have an adventure during Saturday's free time (let us know ahead of time please if you'd like to reserve one).  We'll be updating our site with our menu based on what is most fresh, local and delicious during our retreat.
Go Deeper With Private Healing Sessions
---

Private Yoga is available with Indy Ewald and individual acupuncture sessions are available with Kerry Boyle, LAc. for an additional fee.
Kerry has been practicing traditional Chinese medicine for 14 years.  Her integrative style may incorporate acupuncture, acupressure, massage therapy, cranio-sacral therapy, essential oil therapy, and nutritional advice.  Use this time for a general, relaxation treatment or explore a chronic issue.  Leave your treatment with a wellness plan and referrals for providers at home.
Would you like to create a personalized home yoga routine?  Indy can help you design a routine that fits into your schedule, your style and your goals.
Would you like to begin a meditation practice but don't know what to do?  Learning a few basic techniques and making a plan can get you started on your path of self-discovery.
Free Time
---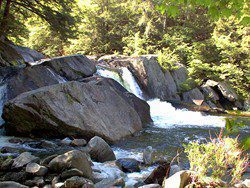 Plymouth, Vermont is about 10 miles from Killington. There will be time on Saturday to explore the area, or stay in and relax. Some of the things to do in the area include golfing, swimming, kayaking, waterfall exploring and hiking. For more information about things to do check out Good Commons Activities.
Buttermilk Falls, just a few miles from our retreat center.
Rates and Reservations (per person)
---
Yoga Retreat Rates include accommodations, meals, wine tasting, group acupuncture and all yoga classes and lectures.  Additional fees for private acupuncture and private yoga sessions.
Single Private Rooms                               $650
Semi Private Shared Rooms                 $500
(2 per room, we'll assign a roommate for you)
Sleeping Loft                                            $425
(9 women each with twin bed in a loft)
Day Guest Only                                          $250
(includes all meals, no accommodations)
Acupuncture Session with Kerry (1hr)    $100
Private Yoga Instruction with Indy (1hr) $60
Private Room                                                                                      Sleeping Loft

---
 About Us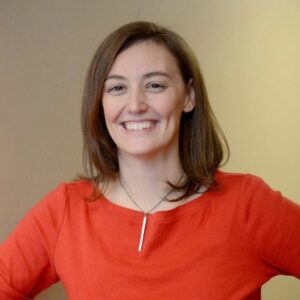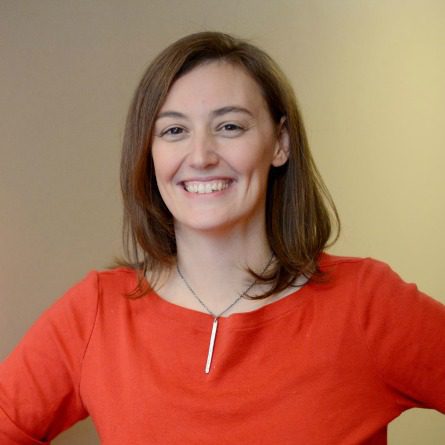 Kerry Boyle, has been a practicing as a licensed acupuncturist since 2003.  Kerry's love of yoga and nutrition throughout high school brought her to discover Bastyr University in Seattle, WA where she graduated with her MS in acupuncture and her massage therapy license.  After sailing around the world, launching acupuncture on board cruise ships for several years, she returned to Vermont to begin a private practice in Montpelier and Williston.  Kerry's practice, Integrative Acupuncture, strives to provide modern acupuncture in an integrative setting by affiliating with Central Vermont Medical Center and working closely with other medical providers.
Kerry will be conducting holistic health lectures, partnering with Indy for Acu Yoga and 5 Element yoga, and providing Group Acupuncture treatments during our yoga retreat.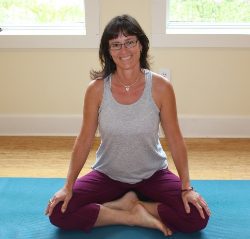 Indy Ewald
Indy is the founder of IndyYoga and IndyYoga studio in Duxbury, VT. A student of yoga for over 25 years and an instructor for over 18 years, her classes offer students an opportunity to rediscover themselves underneath the busy-ness of life, connect to what's really important and rejuvenate the mind, body and spirit. Her approach is to offer a yoga practice that is real and relevant to every day life.
Indy's training over the years is an eclectic mix of Hatha yoga styles, including a 200 hour teacher certification from Yoga Vermont, and from her experience of teaching thousands of classes. A student of Shinzen Young and Basic Mindfulness, she incorporates meditation into all of her classes.
Indy is also a certified Work Site Health Promotion Specialist helping to design and implement stretching programs at Keurig Green Mountain and Hubbardton Forge.  She has also lead yoga and mindfulness classes in the corporate arena, high school, middle school, and for other local groups.
Jean-Luc Jenni has travelled the world offering cuisines of all types since his teens.  Jean-Luc graduated from an esteemed Swiss culinary school at age 18 with a passion for international cuisine and wine.  After meeting his wife, Kerry, while working on board cruise ships Jean-Luc became interested in providing organic, local cuisine without sacrificing flavor.   Yoga retreat participants can chose to complement their weekend with expertly prepared, organic, simple meals or indulge in decadent desserts and Spanish wine tasting.