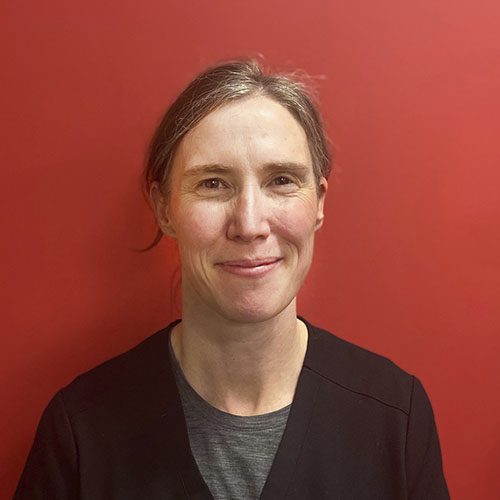 Renée Klorman
M.S.O.M., L.Ac., Dipl.Ac
"I embrace all arms of Chinese medicine and have spent many years developing a solid skill set to work with a wide variety of health concerns."
Meet Renée
We're so pleased to welcome our newest team member, our mushroom foraging, long-distance hiking, outdoor enthusiast – Renée.
Renée began her work in Eastern medicine and holistic care 15 years ago. After attending a two-year Shiatsu and Massage Therapy program at The Swedish Institute in New York, NY, Renée studied at multiple top-rated acupuncture schools in the U.S. and graduated from the Academy of Chinese Culture and Health Sciences (A.C.C.H.S.) in Oakland, CA. In addition to her four years of training for Chinese medicine and a Master of Science in Oriental Medicine (M.S.O.M.), Renee has studied with Biomechanist Katy Bowman for the last seven years. She is the only Licensed Acupuncturist to be a Nutritious Movement® certified Restorative Exercise Specialist (RES-CPT) with Bowman. This unique combination of expertise makes Renee exceptionally skilled at pain management.
Renée maintains National Board certification as a Diplomate in Oriental Medicine (Dipl. O.M.), meeting the Acupuncture and Chinese herbology requirements. She holds current state licensure in Vermont (L.Ac.). Renée has practiced in California and Washington since 2012 and has recently relocated to Vermont to be closer to family. Renée continues to advance her studies in Acupuncture as a Fellow and member of the Society of Acupuncture Research (S.A.R.) and is a current student of the two-year Graduate Mentorship Program with distinguished expert Sharon Weizenbaum to advance her diagnostic skills.
Renée loves applying her well-rounded experience in holistic health care in a gentle style. She has additional certifications in craniosacral therapy and myofascial release therapy and has recently completed an advanced Oncology Acupuncture certification.
SCHEDULE AN APPOINTMENT WITH RENEE
Education & Certifications
Licensed Acupuncturist L.Ac., Vermont (#091.0134049) 2021

Master of Science in Oriental Medicine M.S.O.M., Academy of Chinese Culture and Health Sciences, 2012

The Swedish Institute, New York, NY, Massage Therapy Program, 1100 hours, 2006

Diplomate Oriental Medicine Dipl. OM, NCCAOM (#151709)

Clean Needle Certificate CNT, CCAOM 2012

Biodynamic Craniosacral Certification, Turtle Back Craniosacral Education, (Ongoing) 

Restorative Exercise Specialist (RES-CPT), Nutritious Movement/Katy Bowman (2018)

Thai Massage and Herbal Compress Certification, Sunshine School of Massage, Chiang Mai, Thailand, 200 hours, 2010

Advanced Myofascial Techniques Certification, Til Luchau, 2008

Oncology Acupuncture Program and Certification, TCM Academy of Integrative Medicine (Current)