Pregnancy is an amazing time of life, but can include a variety of new issues as your body changes. Acupuncture is a non-pharmacological option to relieve pregnancy-related complaints. Acupuncture successfully treats morning sickness, sciatica, back pain, carpal tunnel syndrome and acid reflux. At the end of your pregnancy, you may hear about acupuncture for turning breech positioned babies and induction of labor. At IAOM in Montpelier and Williston, we work with your primary care provider or midwife to determine how acupuncture can provide natural solutions during your pregnancy.
Many women who have managed their headaches and migraines with medications for years come to acupuncture to manage their pain once their care providers have recommended discontinuing medications during pregnancy. Acupuncture is safe and effective to use in pregnancy to naturally reduce headaches. Available studies about migraine headaches suggest that acupuncture is at least as effective as, or possibly more effective than, prophylactic drug treatment, and has fewer adverse effects which are crucial to consider in pregnancy.
Postpartum Depression
Postpartum depression affects 10-15% of mothers. Acupuncture and Chinese herbs have been helpful to new mothers for thousands of years. Our providers will discuss lifestyle, nutrition and herbal advice with mothers as well as offer acupuncture for depression. A small study showed both electroacupuncture and non-invasive sham acupuncture were effective for postpartum depression.
Believe it or not, young children and infants also benefit from acupuncture and Chinese medicine. We frequently treat children for a wide range of issues including upper respiratory infections, torticollis, colic, difficulty breast feeding and post birth trauma. Our providers at Integrative Acupuncture in Montpelier and Williston have experience treating children and are parents themselves. We strive to provide a comfortable experience for your child while tending to their health care needs, naturally.

Safety of Acupuncture in Pregnancy
Your and your baby's safety is our number one priority. According to research, acupuncture during pregnancy appears to be associated with few adverse effects when correctly applied. Our acupuncturists are all nationally board certified and licensed, they each have received advanced, post graduate training in applying acupuncture during pregnancy. Our clinic's rate of serious adverse effects during pregnancy is zero. The most common reports of side effects during acupuncture are sleepiness and discoloration or bruising, we expect 5-10% of patients to report this side effect.

SOURCES:
Vickers AJ, Vertosick EA, Lewith G, et al. Acupuncture for Chronic Pain: Update of an Individual Patient Data Meta-Analysis. J Pain. 2018;19(5):455–474. doi:10.1016/j.jpain.2017.11.005
Chou R, Deyo R, Friedly J, et al. Nonpharmacologic Therapies for Low Back Pain: A Systematic Review for an American College of Physicians Clinical Practice Guideline. Ann Intern Med. 2017;166(7):493–505. doi:10.7326/M16-2459
Qaseem A, Wilt TJ, McLean RM, Forciea MA; Clinical Guidelines Committee of the American College of Physicians. Noninvasive Treatments for Acute, Subacute, and Chronic Low Back Pain: A Clinical Practice Guideline From the American College of Physicians. Ann Intern Med. 2017;166(7):514–530. doi:10.7326/M16-2367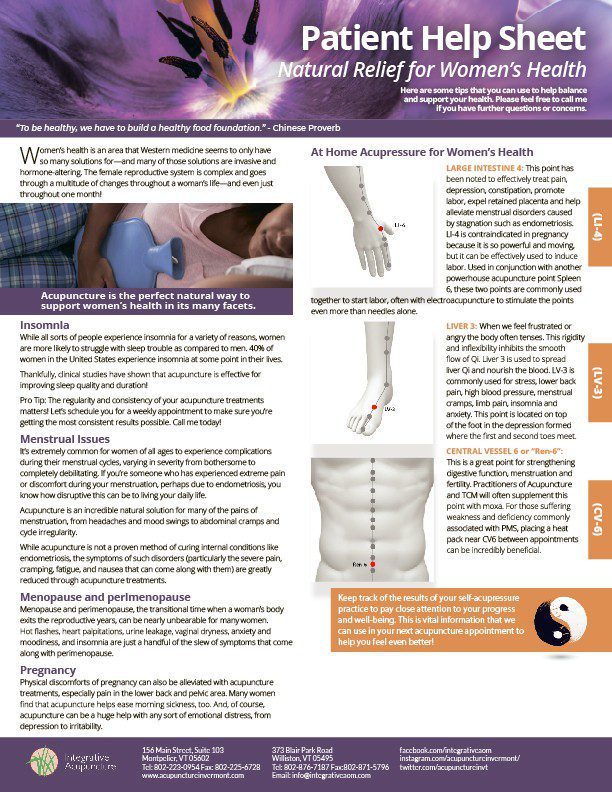 Download Patient Help Sheet