Integrative Acupuncture and Oriental Medicine is proud to be affiliated with the staff and providers of Montpelier Integrative Health of University of Vermont Health Network- Central Vermont Medical Center. Our mission is to integrate acupuncture and Chinese medicine with western health modalities in a complementary way.
We believe the best way to optimize health and well-being of our community is through collaboration and communication with other health care providers. We look forward to providing complementary care.
IAOM is part of the team at Montpelier Integrative Family Health. We meet regularly to enhance professional development and learn from each other.
Our vision as a team is as follows:
"Montpelier Integrative Family Health and its employees will accomplish our mission by providing excellent patient-centered integrative medical care. This means that we will embrace the use of all effective healing modalities and will integrate diverse approaches from around the world to alleviate human suffering.
Our organization will focus on a collaborative team approach to patient care that considers the entire human experience, encompassing all aspects of biological, psychospiritual, relational, and cultural health. Our team will focus on the enhancement of well-being, the prevention and treatment of chronic illness and the establishment of sustainable approaches to healthcare.
Our healing environment will be oriented toward the support and stimulation of optimal health and the achievement of wholeness. We will incorporate, whenever possible, the principles of "green" building design and construction, natural lighting, sacred geometry, and healing spaces.
We will focus on the conscious development of an awareness, expectation, and belief in the improvement and wellbeing of our patients and our staff. We will support our patients and each other in the practice of transformative and health-promoting self-care techniques that facilitate personal integration and the experience of wholeness and wellbeing. We will also practice techniques that foster a palpable healing presence based on compassion, love, and awareness of interconnectivity. Examples may include, but are not limited to, meditation, mindfulness, tai chi, and yoga.
We will develop listening and communication skills that foster trust and bonding between practitioner and patient through the cultivation of compassionate or "unconditional" listening. Practitioners and employees will be encouraged to take sabbatical time to immerse themselves in experiences that foster personal growth and help to develop a richness and depth of healing skills."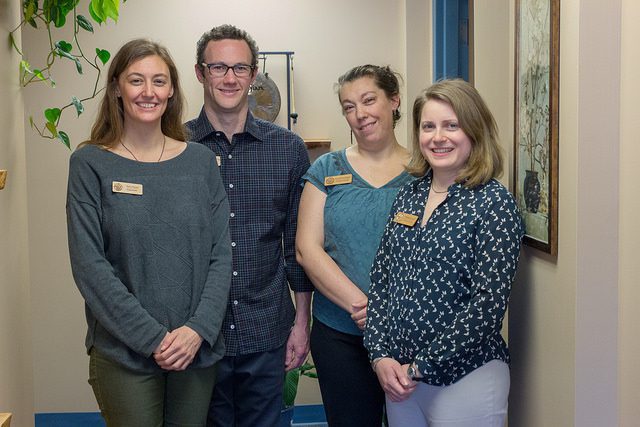 With our patient's permission, Integrative Acupuncture and Oriental Medicine is pleased to collaborate with any provider our patients determine as part of their health care team.