Moxibustion, a form of traditional Chinese medicine (TCM), is the burning of the herb moxa (Folium Artemisiae argyi or mugwort) over acupuncture points for many conditions. We are pleased to offer acupuncture, massage, moxibustion, and Chinese herbal medicine for our patients in our modern and welcoming clinics in Montpelier and Williston, Vermont.
Moxibustion is an ancient Chinese medical technique. The possible mechanisms by which moxibustion may work include temperature-related factors and nontemperature-related factors; the latter include smoke effects, herbal effects and biophysical effects (far infrared).
What Does Moxibustion Treat?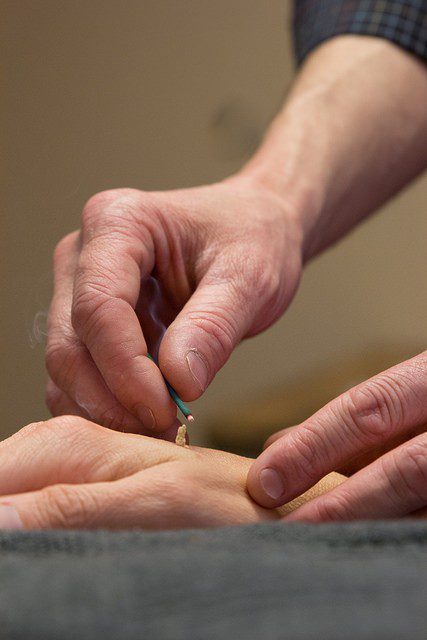 We most frequently use acupuncture for:
Breech Positioned Fetus
Low Back Pain
Herniated Disc
Neck Pain
Insomnia
Vertigo
Fatigue
Weakness
Moxibustion is an adjunctive therapy used usually in combination with acupuncture for a wide variety of conditions. Moxa can be rolled into stick form, placed directly on the skin, or placed on an acupuncture needle and ignited to warm acupuncture points. It is most well known for turning breech positioned babies at the end of pregnancy.
Based on descriptions in the ancient Chinese literature, the therapeutic effects of moxibustion are associated with treating chronic symptoms related to "deficiencies" and to the prevention of disorders. Studies have demonstrated that moxibustion is effective when used to treat cervical vertigo,  dysmenorrhea, chemotherapy-induced leucopenia, and various emergency conditions. Much effort has been devoted to the studies of moxibustion using experimental tumor models, including with or without smoke.  More information about these studies can be found here.
Moxibustion is generally a very safe procedure. It is recommended to see a licensed acupuncturist for moxibustion as their are some potential risks with the procedure such as burns, allergies or infections. Our practice has never had an adverse reaction to the application of moxibustion.
Studies of the safety of moxibustion, specifically for pregnancy have not detected changes in baby and/or maternal well-being or other side-effects associated with moxibustion for breech presentations. Moxibustion is be safe for both the mother and the fetus.