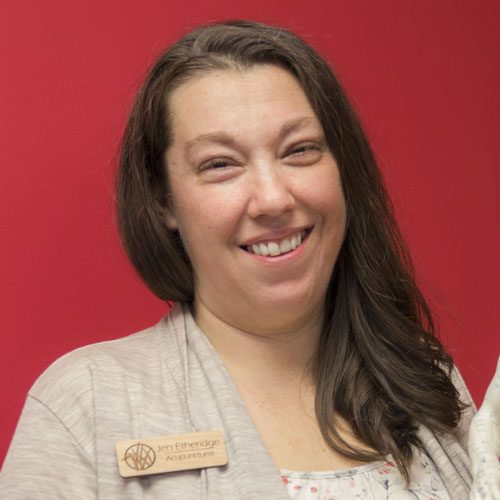 Jen Etheridge M.S.O.M, L.Ac., Dipl. Ac.
Licensed Acupuncturist
"After spending the past 10 years in the southwest, I am glad to be back in the northeast to offer the benefits of acupuncture medicine to my new community. I am excited to share my depth of knowledge about this holistic form of medicine with the communities of central Vermont."
Meet Jen
Jen Etheridge became interested in the historical use of herbal medicines throughout the world while working as an archeologist. After working for several years in the field and studying the use of plant medicines by Native Americans she began furthering her studies with Michael Tierra O.M.D. and the East West School of Planetary Herbology. This involved the in-depth study of Western, Ayurvedic and Chinese herbalism. Jen was very impressed by the history and use of herbs in Chinese Medicine and decided to pursue the study of acupuncture to learn more.
After attending one of the top rated acupuncture schools in the US, Southwest Acupuncture College in Santa Fe, New Mexico Jen completed the 4 year program of study and received a Master of Science in Oriental Medicine (M.S.O.M.). Jennifer maintains national board certification as a Diplomate in Oriental Medicine (Dipl.O.M.), meeting requirements for both acupuncture and Chinese herbology. She holds current state licensure in New Mexico (DOM) and Vermont (L.Ac.).
Jen has advanced training in the use of acupuncture for facial rejuvenation and dermatology. She enjoys helping patients using herbal medicine and offers both nutritional and herbal consultations along with acupuncture care.
SCHEDULE AN APPOINTMENT WITH JEN
Education & Certifications
Licensed Acupuncturist L.Ac., Vermont (091.0098544) 2013
Doctor of Oriental Medicine D.O.M., New Mexico (#1086) 2012
Master of Science in Oriental Medicine M.S.O.M., Southwest Acupuncture College Santa Fe, NM 2011
Diplomate Oriental Medicine Dipl. OM, NCCAOM 2011
Clean Needle Certificate CNT, CCAOM 2008