Four years goes fast when your busy exposing a whole community to group acupuncture and providing over 5,000 reduced rate acupuncture treatments.  
Joshua Singer and Kerry Boyle Jenni, both nationally board certified and licensed acupuncturists, have been doing just that while maintaining and growing their private practice within Montpelier Integrative Family Health of
Central Vermont Medical Center
.  Every Thursday evening from 6-8pm for the past four years the waiting area of Montpelier Integrative Family Health fills up with 20-30 people who patiently wait their turn for
group acupuncture
at this walk in clinic to receive acupuncture for $10.
The History of Group Acupuncture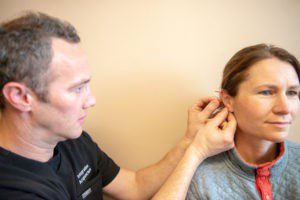 In the late sixties, an epidemic of heroin use was sweeping New York City.  Desperate for a solution, young people went to Chinatown to see if acupuncture could help with the addiction.  They were taught 5 acupuncture points in the ear for addiction and withdrawals.  The treatment was brought to the Lincoln Recovery Center in the Bronx and people began to find relief from heroin addiction with small needles in their ears.  The Recovery Center continues this treatment today in one of the few non methadone based recovery centers in the nation.  Using acupuncture and Narcotics Anonymous programs alone, the center treats all types of addictions now.  Kerry Boyle-Jenni trained at the
Lincoln Recovery Center
in 2003 and based the group acupuncture model off of this.
The Black Panthers played a vital role in supporting the health of the community and bringing acupuncture to the people. Watch this video for more info:
 "I witnessed dozens of people suffering from withdrawals from addiction sit in a room together and relax while receiving acupuncture.  Some would sleep, others would read quietly.  All were remarkably relaxed after their treatment, similar to the results of the one on one acupuncture treatments we provide."  
Knowing the ear had many more than the 5 detox points, Boyle- Jenni figured she could provide acupuncture treatments in the same setting as at the detox center for many more conditions.  Being able to treat 10-20 people per hour would allow for a lower cost of treatment.
Back Pain, Insomnia, Anxiety and more treated with Group Acupuncture
According to Singer and Boyle- Jenni, the ear has over 200 acupuncture points and is a "microsystem" of the whole body.  There is a map of the body, an inverted fetus, that includes points for the whole body.  The check in process at Group Acupuncture on Thursdays includes a half sheet of paper with check boxes for issues like
back pain,
insomnia,
allergies, weight gain, and
stress
.  Patients check boxes for what is bother them that evening and include additional information if needed.
Eager patients have a seat in the transformed waiting room, provided by the primary care office
Montpelier Integrative Family Health
,  with dim lights and relaxing music, and wait their turn.  The acupuncturist on duty that evening comes around and quietly whispers with each person about what type of treatment they need.  Small needles are inserted in the ear while people quietly relax for 20-30 minutes.
"We've had some exciting treatments over the four years, including getting a labor going, reducing symptoms of Bell's Palsy, treating people right out of various surgeries for pain, and acute addiction management", says Singer.
5,000 Group Acupuncture Treatments
The providers at Integrative Acupuncture are excited to celebrate their 5,000th group acupuncture treatment.  They figure most patients who attend group acupuncture do so because one on one services are not possible due to finances and insurance limitations.  Currently acupuncture is a covered service for state and federal employees.  Other insurance plans that include acupuncture as an "add on" service.  In Vermont, acupuncture is not a service that is required to be included in standard coverage, something the
Vermont Acupuncture Association
(VTAA) would like to see change.  Both Singer and Boyle-Jenni are active in the VTAA and regularly attend events at the state house to represent their profession.  They hope that soon Vermont will join other states that have made
acupuncture an essential health benefit and increase access to this service for all.
 Boyle- Jenni comments, "Although group acupuncture has allowed for many people to have treatments that may not otherwise, it would benefit the patients greatly if we could have more time and use more of our treatment tools by seeing them in a one on one setting."
Integrative Acupuncture will be celebrating their 5,000th treatment by rewarding the unknowing 5,000th person with a gift basket of herbs, pain plasters, and coupons for complementary acupuncture treatments.  They anticipate this will be sometime in May 2014.