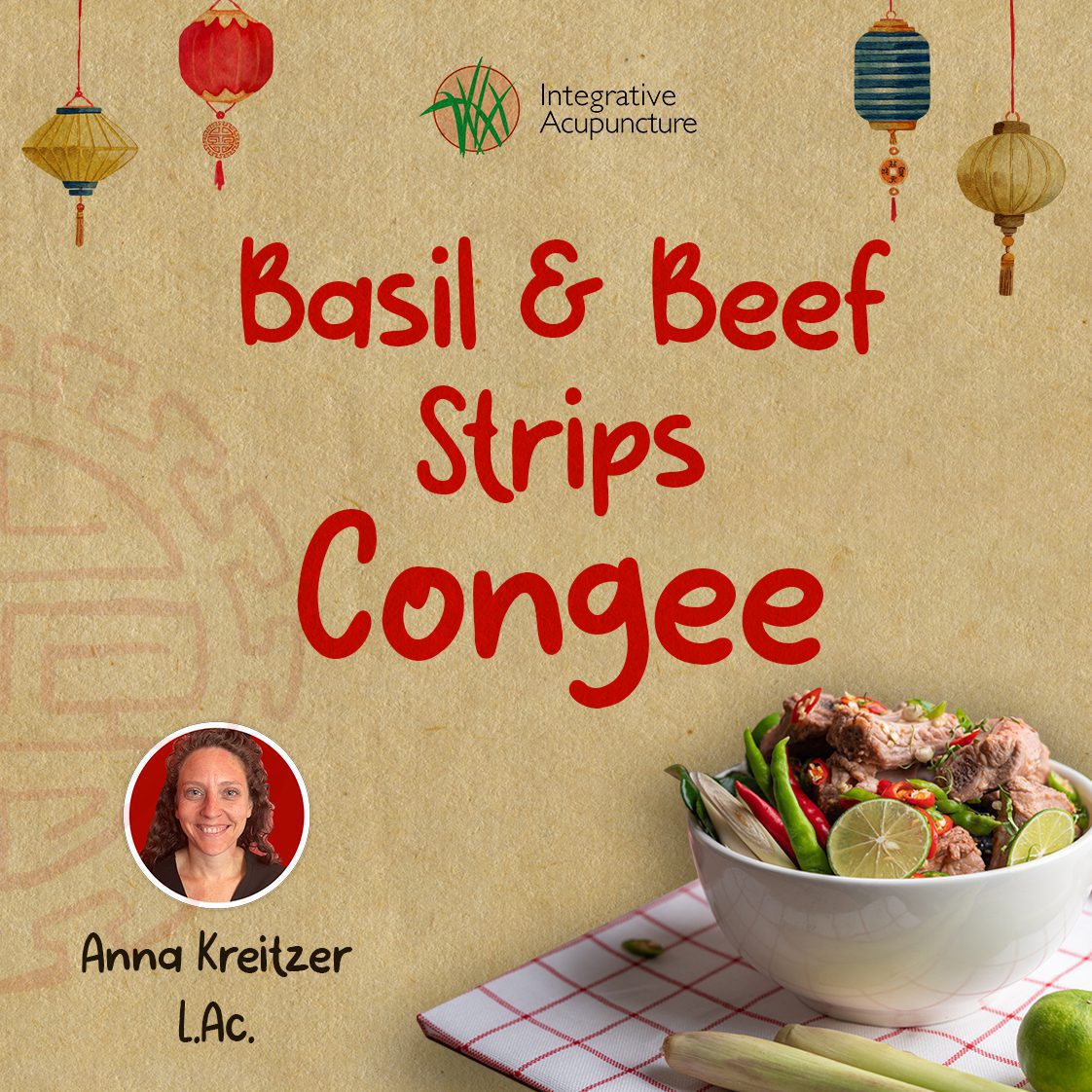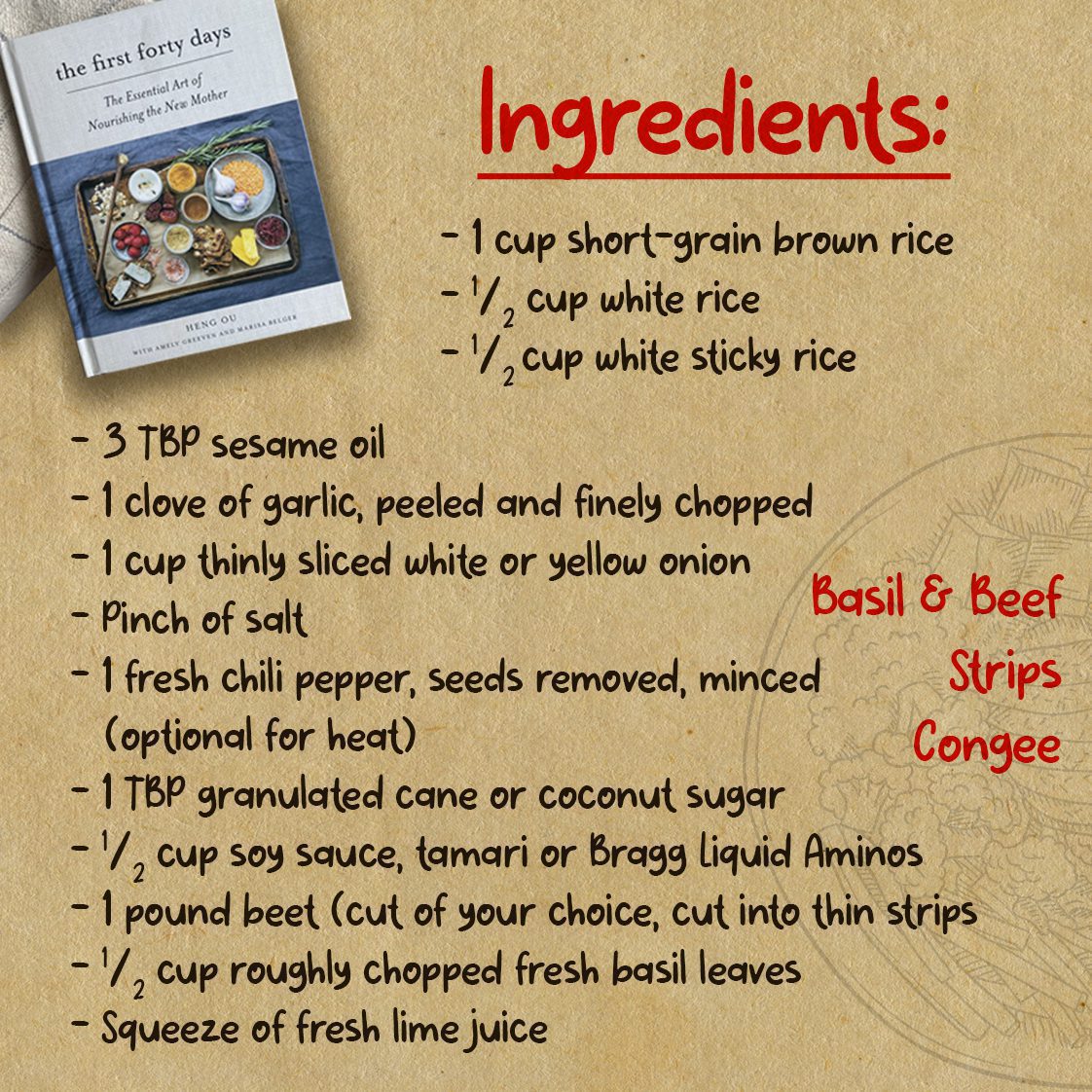 Basil and Beef Strips Congee
Anna is one of our Acupuncture Fertility Specialists at IA working in Montpelier and soon at our new office at Northeastern Reproductive Medicine in Colchester. She'll be highlighting a congee that is excellent for building blood and Qi, perfect for fertility, pregnancy and postpartum. Anna's congee comes from one of our favorite Fertility books- The First Forty Days by Heng Ou. 
This congee is great for everyone with its immune-boosting, magnesium-rich, anti-inflammatory ingredients. 
1 cup short-grain brown rice 

½ cup white rice

½ cup white sticky rice 

3 TBP sesame oil 

1 clove of garlic, peeled and finely chopped 

1 cup thinly sliced white or yellow onion 

Pinch of salt

1 fresh chili pepper, seeds removed, minced (optional for heat) 

1 TBP granulated cane or coconut sugar 

½ cup soy sauce, tamari or Bragg Liquid Aminos 

1 pound beet (cut of your choice, cut into thin strips 

½ cup roughly chopped fresh basil leaves 

Squeeze of fresh lime juice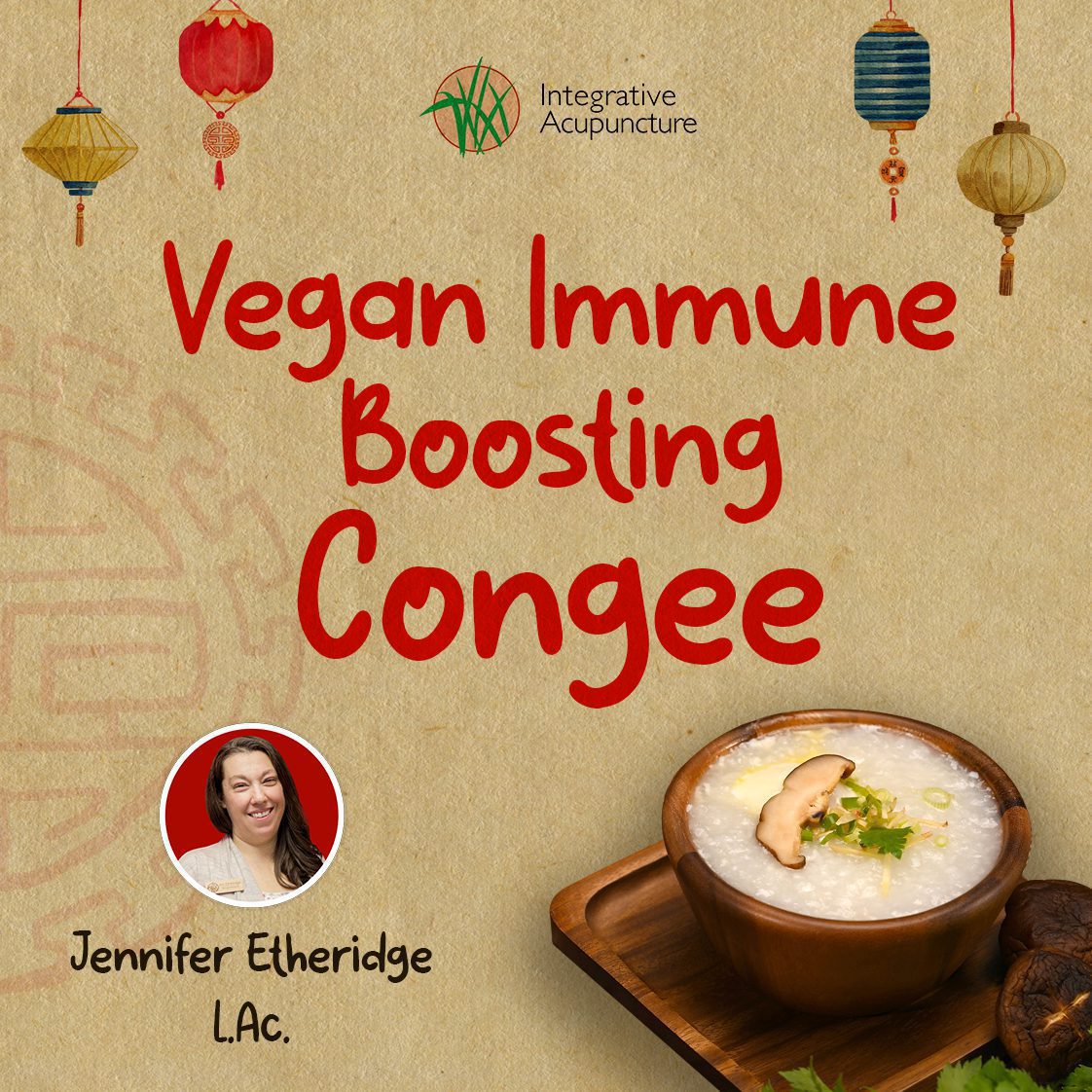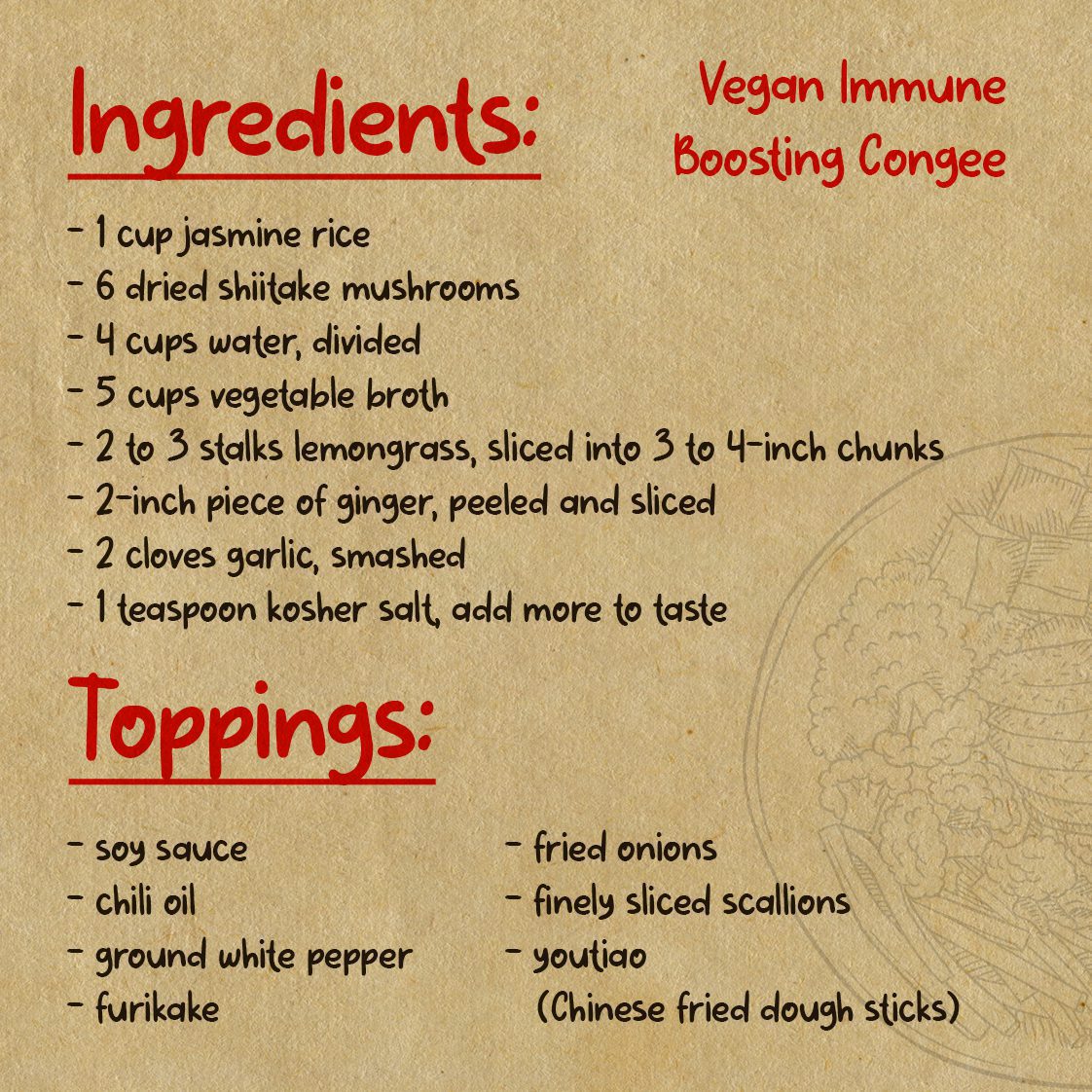 Vegan Immune Boosting Congee
Jen returns to competition after taking 2nd place last year with an awesome congee that had ALL the toppings. Jen is known for her caring and gentle approach to chronic pain, inflammation and digestive issues with acupuncture care and she brings these influences with her congee entry this year. 
1 cup jasmine rice

6 dried shiitake mushrooms

4 cups water, divided

5 cups vegetable broth

2 to 3 stalks lemongrass, sliced into 3 to 4-inch chunks

2-inch piece of ginger, peeled and sliced

2 cloves garlic, smashed

1 teaspoon kosher salt, add more to taste




Toppings 

soy sauce

fried onions

finely sliced scallions

youtiao (Chinese fried dough sticks)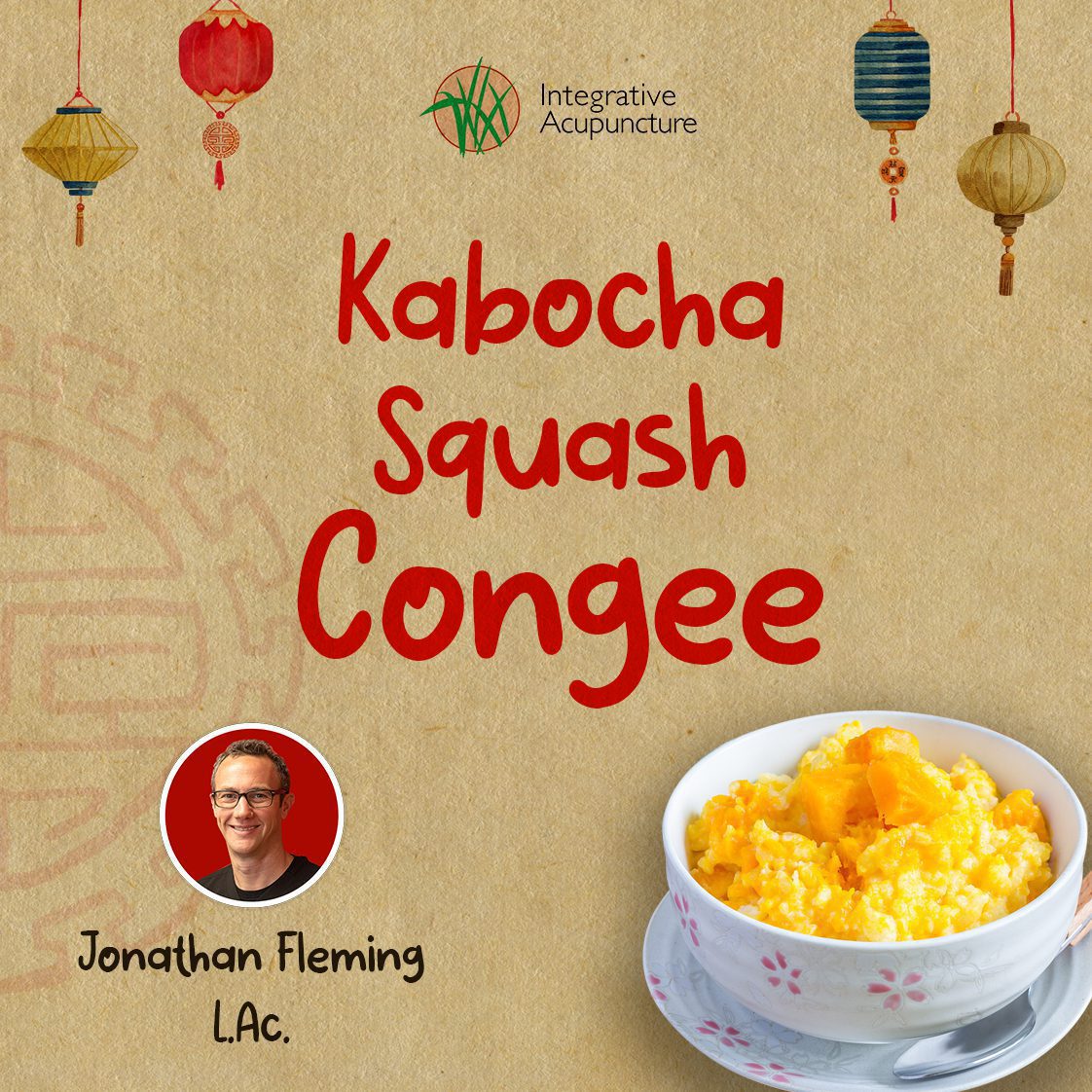 Kabocha Squash Congee
Jonathan has a treat for us at the Congee Cookoff- Kabocha Squash Congee with ingredients straight from his home organic vegetable garden! Joanthan's expertise as a sports medicine acupuncturist can be seen through his congee recipe – tons of Qi moving and anti-inflammatory ingredients here. Jonathan also utilizes a lot of Japanese techniques in his gentle style of acupuncture, including offer Sotai, which is a body work style that reeducates the body with gentle passive range of motion exercises. 
What is Kabocha Squash? It's a squash that is known for its especially sweet flavor. Even sweeter than butternut squash. It has a light, fluffy, velvety texture, and tastes like a combination of sweet potatoes with pumpkin. It's packed with nutrients like vitamins A and C, some B vitamins, fiber, magnesium, potassium, and antioxidants.
1 cup raw long-grain white rice, rinsed

7 cups vegetable stock

1/2 teaspoon kosher or sea salt, plus more for seasoning

One-inch knob of ginger, peeled and sliced thin

1 small kabocha squash (about 2 1/2 pounds)

Sliced green onion, for garnish

Sesame seed oil or soy sauce, to taste (optional)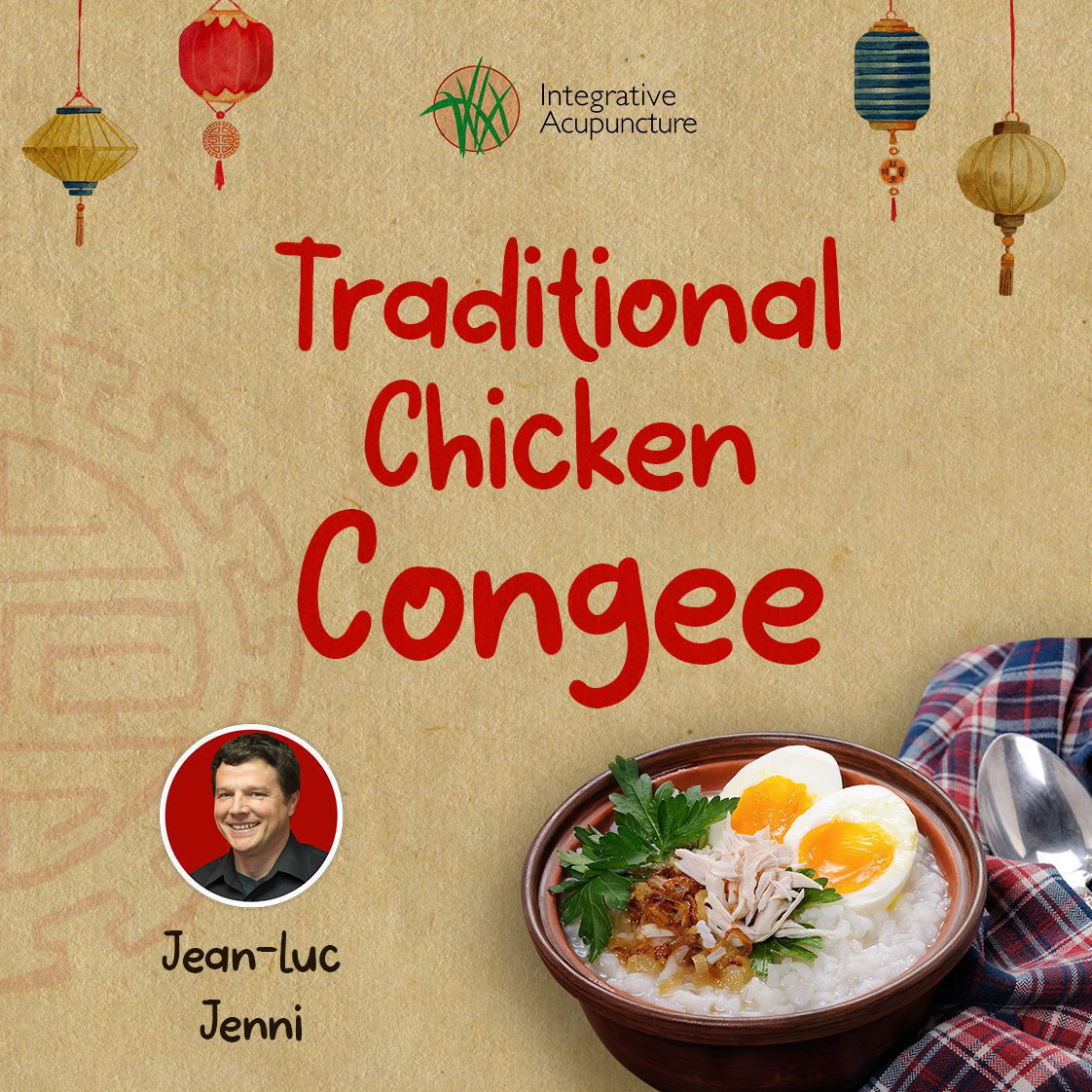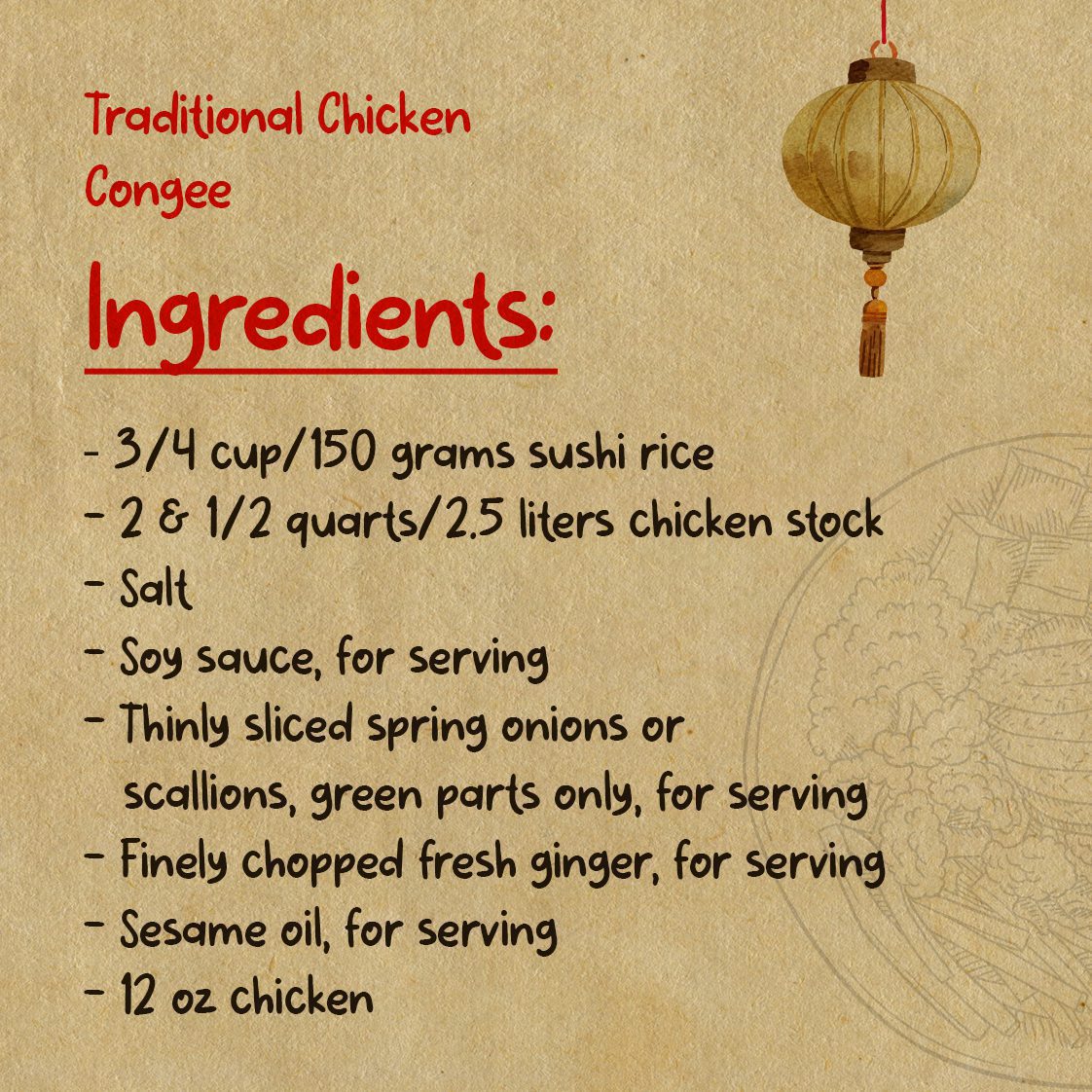 Traditional Chicken Congee
Also known as the reigning Congee Cookoff Champion! 
Jean-Luc is the ringer in this competition. A native of Switzerland, Jean-Luc is a formally trained chef with experience cooking around the world, including Asia. 
Jean-Luc returns to competition with his traditional Chicken Congee. Healing, soothing and comforting, this traditional congee is what you may expect in a five star restaurant in Hong Kong or from a delicious street cart in Beijing. Come by the Cookoff and Jean-Luc just may dish out his secrets for creating the most tender chicken ever. 
¾ cup/150 grams sushi rice

2 ½ quarts/2.5 liters chicken stock

Salt

Soy sauce, for serving

Thinly sliced spring onions or scallions, green parts only, for serving

Finely chopped fresh ginger, for serving

Sesame oil, for serving

12 oz chicken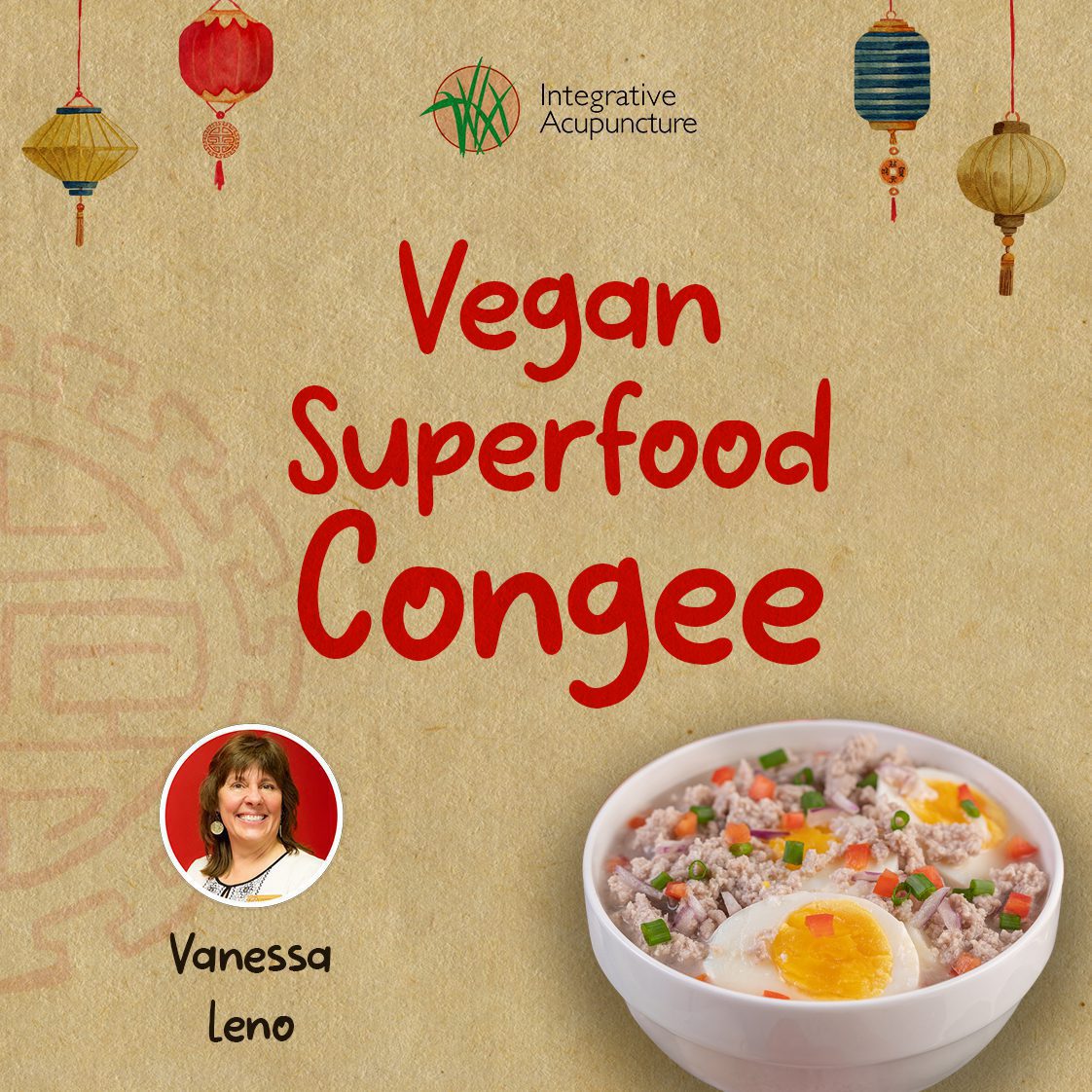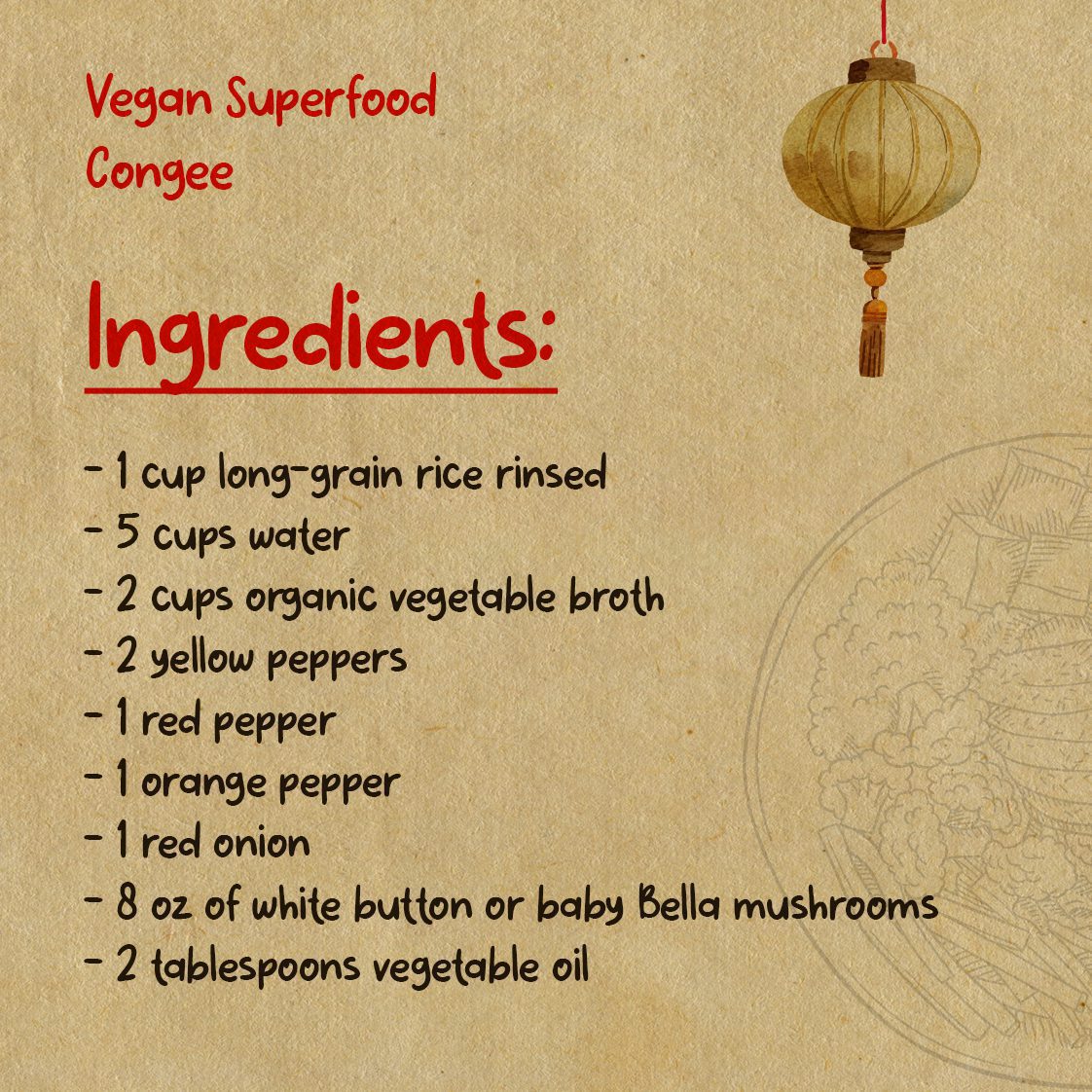 Vegan Superfood Congee
After 10 years of managing Integrative Acupuncture, Vanessa knows a thing or two about Qi! 
Vanessa is preparing a Vegan Superfood Congee! Sautéed red and yellow peppers, red onions and mushrooms with a dash of soy sauce along with a traditional base of white rice will delight vegans and non vegans with its seasonally sweet and nutritious!
1 cup long-grain rice rinsed

5 cups water

2 cups organic vegetable broth

2 yellow peppers

1 red pepper 

1 orange pepper

1 red onion

8 oz of white button or baby Bella mushrooms

2 tablespoons vegetable oil 
Cook the first three ingredients in a crockpot on low to desired consistency may need to add liquid if too dry (low setting will take several hours).
Slice vegetables thinly. Add oil to a large skillet over medium heat, toss in vegetables and sauté until softened. 
Spoon congee in a bowl and top with the vegetables and enjoy!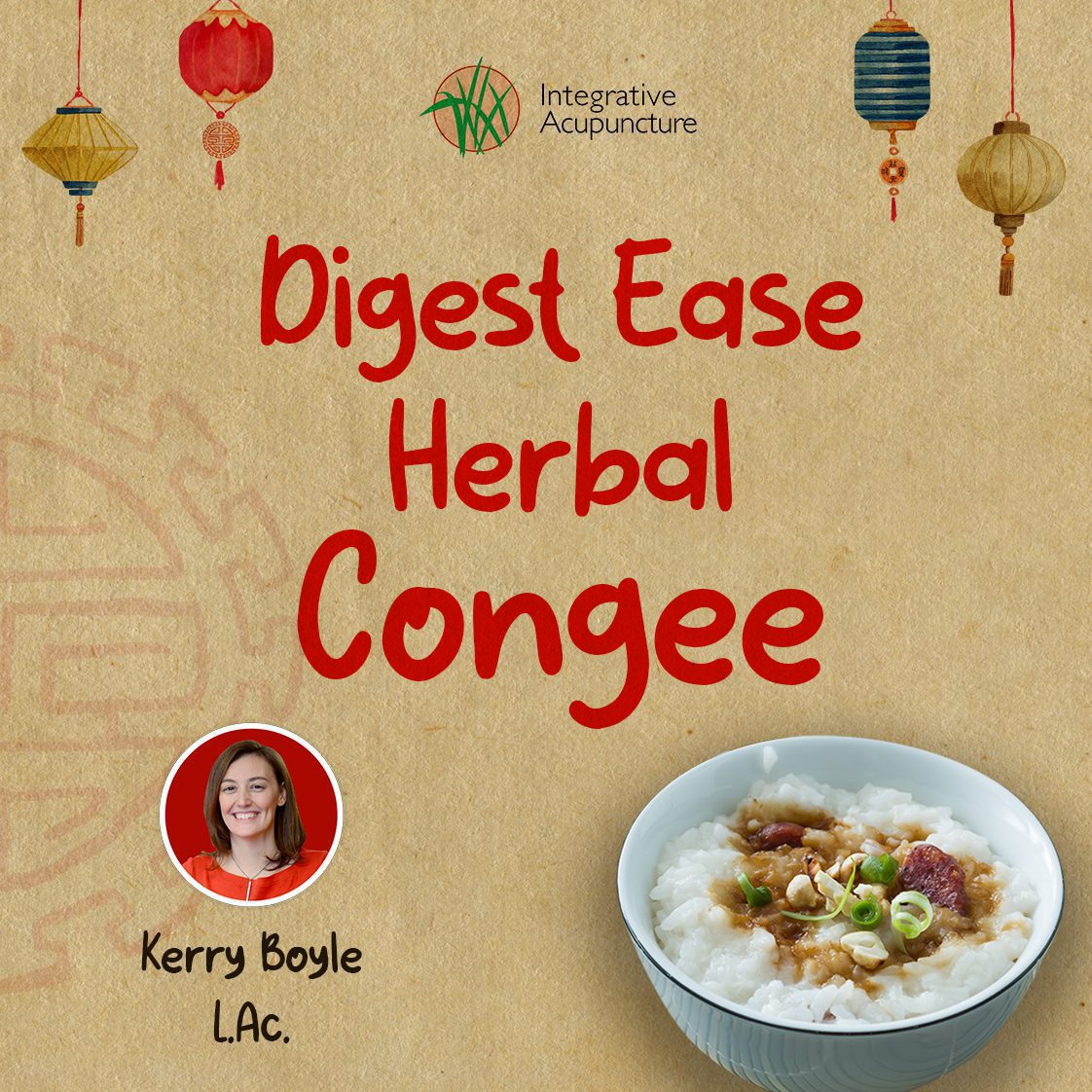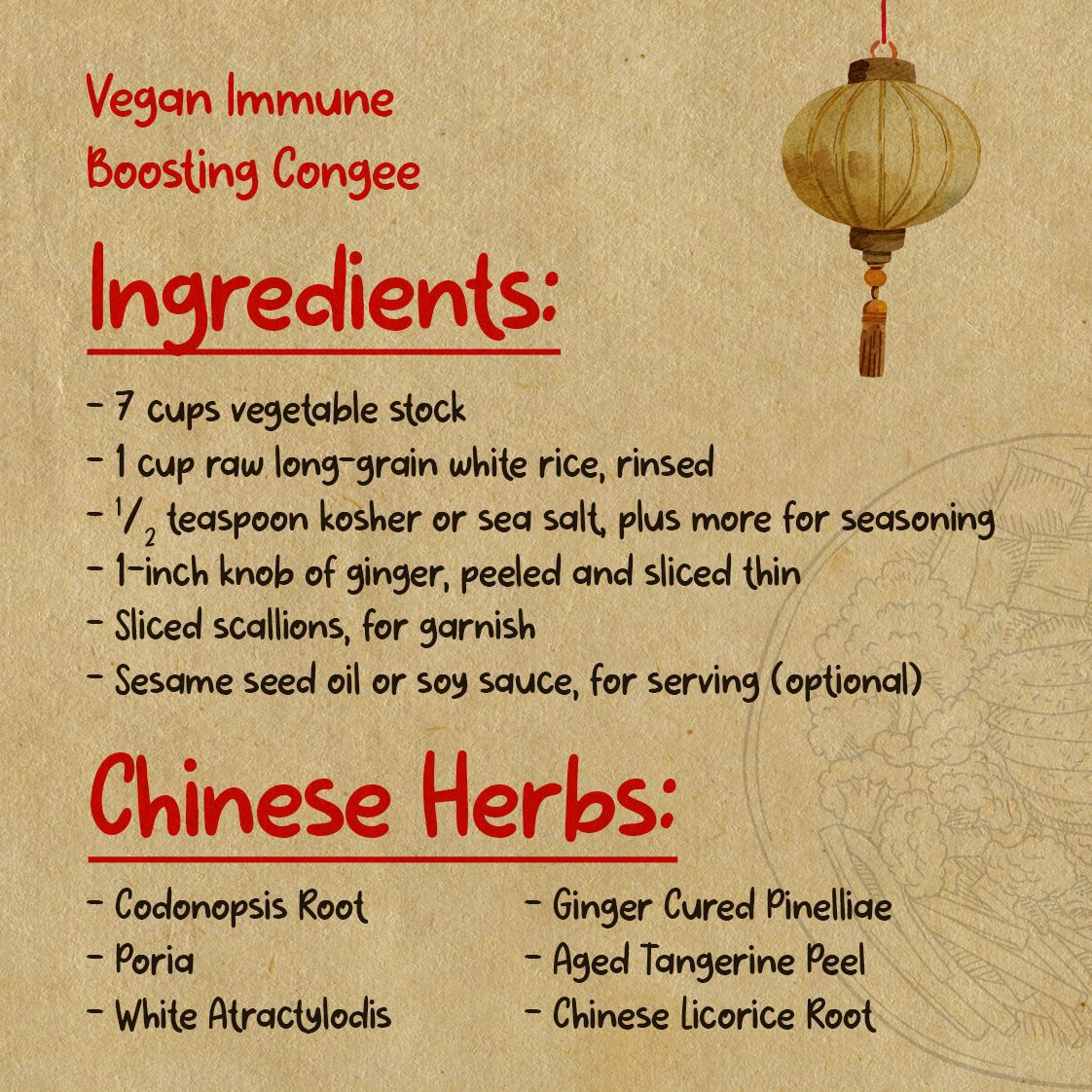 Digest Ease Herbal Congee
Kerry loves using traditional Chinese herbal medicine both in recommendations for acupuncture patients and in food. Kerry's cooking up a herbal-infused congee using our own Digest Ease Herbal blend. She'll create a medicinal tea with the herbs and then infuse it into the basic congee rice recipe. 
Try Digest Ease Herbal Congee for IBS, constipation, diarrhea, and fatigue. The Spleen tonic herbs provide a nice digestive boost for anyone. 
7 cups vegetable stock

1 cup raw long-grain white rice, rinsed

1/2 teaspoon kosher or sea salt, plus more for seasoning

1-inch knob of ginger, peeled and sliced thin

Sliced scallions, for garnish

Sesame seed oil or soy sauce, for serving (optional)
Dang Shen (Codonopsis Pilosula Radix) Codonopsis Root 

Fu Ling (Scierotium Poriae Cocos) Poria 

Bai Zhu (Rhizoma White Atractylodes Macrocephalae) White Atractylodis 

Zhi Ban Xia (Rhizoma Pinelliae Preparatum) Ginger Cured Pinelliae 

Chen Pi (Pericarpium Citri Reticulatae) Aged Tangerine Peel 

Gan Cao (Radix Glycyrrhizae) Chinese Licorice Root