Throughout our country, it is becoming more and more common to see cancer treatment centers incorporate complementary therapies as a part of their program. Oncologists and hospital administrators are seeing the value in caring for the whole  person, not just focusing on the tumor or blood cell counts.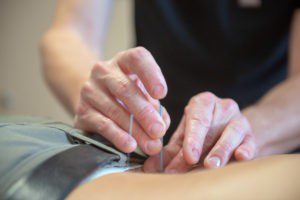 At Central Vermont Medical Center in Berlin, VT, I have been treating cancer patients with acupuncture weekly for the past three years, I began not very long after the opening of National Life Cancer Treatment Center. Along with acupuncture, reiki and massage therapy are also offered free of charge to any patient of the center. The staff and providers regularly refer patients for the common side effects of surgery, chemotherapy, and radiation. I see patients to help manage fatigue, neuropathy, various pain, anxiety, dry mouth, and digestive imbalances among other symptoms.
The purpose of acupuncture is to correct the extraneous imbalances that cancer treatment creates. For example, radiation is seen as an external source of heat used to reduce the size of a tumor. After 6 weeks of daily exposure to the radiation, there is excess heat in the body that often creates side effects. By stimulating certain points with acupuncture we can clear the excess heat and the resulting fatigue or constipation will be relieved.
I am excited to be treating people during their treatment process to minimize potential side effects and to help manage the anxiety that frequently is present during cancer treatment. The goal is to help prevent the neuropathy, for example, from coming rather than treating it months later. By minimizing the side effects, the doctor can continue to keep the necessary dosage to maximize their treatment of the cancer. The caring and holistic minded providers at CVMC have created a truly effective model of integrative oncology. Any of the patients who've been treated there will tell you the same.
For more information about complementary acupuncture treatments at National Life Cancer Center at C.V.M.C contact 802-225-5820