Top 5 Gifts from Integrative Acupuncture
It's that time of year again!  What better gift for your friends and family than a gift towards their health and wellness. At Integrative Acupuncture we offer a variety of wellness products as well as Acupuncture and Massage Therapy. Here are some great ideas for gifts for your loved ones.
1. Gift Certificate
A gift certificate is a great way to go if you are, unsure of what to get. It can be used towards services here including Acupuncture or Massage, as well as towards any of the products we carry at the office.  You can click here or call to purchase a gift certificate over the phone or just stop by the office.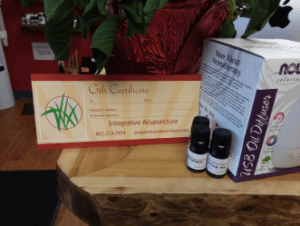 2. Pain Relief
Winter brings with it the beauty of freshly fallen snow and crisp winter air. This also means lots of shoveling, snow blowing, hauling wood, skiing, ice skating, sledding and other winter fun! Give the gift of pain relief for those sore muscles and joints with some of the great topical options for pain relief that we carry in our office. One of our new, but old, favorites is Evil Bone Water!
Evil Bone Water – Originally based on a 500 year old recipe, with a few added extras including the finest Chinese herbs. A very strong topical medicinal commonly used for:- sports and accidental injuries, sprains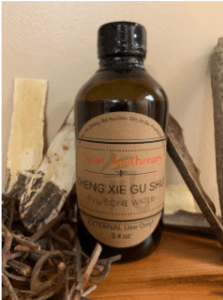 – muscle cramps, insect bites, even broken bones, bruises… and more!
3. Bring some Therapeutic Aromatherapy into someone's life!
As the only other retail source of Vermont's own Lunaroma products outside of Burlington, we are pleased to offer their high quality products. We have a variety of their products available, including Breathe Deep Chest Rub, Sinus Clear, Sea Mist Nasal Spay, and a variety of aromatherapy inhalers that make great gifts or for travel!

4. Looking for a unique and beautiful gift? Look no further!
This Soji Pure Crystal Energy Water Bottle has a beautiful Amethyst crystal inside. A calming stone ideal for mediation and creating serenity in one's life, amethyst can even help with cell regeneration, insomnia, mood swings, and immunity.  It is also known as the "Traveler's Stone," providing extra protection while you're out on the road exploring new places.

5. Give your Immune System a Boost
With all the holiday travel coming up, give your immune system a boost!
PaulStamets of Fungi Perfecti designed this blend of seven mushroom species (Royal Sun Blazei, Cordyceps, Reishi, Maitake, Lion's Mane, Chaga and Mesima) to support general immunity. Many use Stamets 7 as a functional food multiple for maintaining peak performance and health.* We love this powdered mushroom blend made with heat treated and freeze-dried mushroom mycelium powder. Powdered blends are palatable and can be added to smoothies, drinks, sprinkled on oatmeal or even added at the end of a cook, to thicken and enrich soups, stews or other foods. Check out more information about Medicinal Mushrooms in our most recent Newsletter.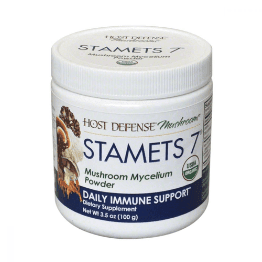 You can pick up a variety of these medicinal mushroom products at our office or through Wellevate.
Didn't catch it in time? Sore throat, itchy eyes, feverish, chills, cough? Give our own IAOM Cold & Flu Formula a try. This is a classical herbal formula to address all of these early cold & flu symptoms. Pick up a bottle at our office or online through our website