Wait, my ear doesn't hurt!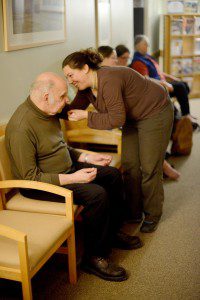 If you have had the opportunity to visit us at one of our Group Acupuncture sessions on Thursday evenings, you have already experienced Auricular or Ear Acupuncture. You may have also thought to yourself, "I came in because I have back pain, why are you sticking a needle in my ear?" This may seem like an obvious oversight, but in fact, the ear is an amazing mirror to the body and has over 100 common acupuncture points.
"embedded within the rigid curves of the external ear are the powerful ear acupuncture points that correspond to every part of the body. This incredible organ, is the first of all our organs to develop embryological."
It was in 1957 when a French acupuncturist Paul Nogier came up with a comprehensive system of auricular medicine. He published Treatise of Auriculotherapy in which he described the correspondence between sensitive points in the ear and internal organs of the body. This expanded on his view that the ear is in the form of a homunculus very similar to that of an inverted fetus, with the head towards the lobule, the feet towards the upper rim of the ear, and the body in between.
From a Western perspective, the effectiveness of auricular acupuncture can be thought of in terms of the nervous system. The ears are highly innervated organs whose nerves have connections with internal organs in all parts of the body. It is because of this that it such an easy to use, and effective form of acupuncture.
Ear acupuncture is often used in trauma situations such as disaster relief, as well as in numerous addiction/ detox centers around the country. Acupuncture Without Borders is a non-profit group who treats trauma victims in a group acupuncture setting, including Haiti and New Orleans post Katrina. Their work and research on PTSD for their Military Stress Recovery Project has been influential for IAOM's Group Acupuncture.
How Do Our Group Acupuncture Sessions Work?
Group Acupuncture sessions are offered once per week, on Thursdays at our Montpelier and Williston office. Sessions begin at 6:00 pm and patients will be treated on a first come first served basis. All treatments conclude at 8 pm, you must arrive before 7:30 pm to have a full treatment.
Treatments are about 30 minutes each. The cost is $10 per treatment. There is no need to book an appointment, this is a walk-in only service. Your treatment will be conducted in a group setting. Treatments are all auricular acupuncture, all points chosen will be in the ears.
We currently are able to offer Group Acupuncture twice a week now. In addition to our Thursday night group clinics, we are also offering Group Acupuncture at the Montpelier and Williston Senior Activity Center on Barre St. on Tuesdays from 10-12pm. This clinic is also a $10 drop-in and open to anyone 50 and over.
Group Acupuncture is recommended for many conditions including:
Stress and Anxiety Management including PTSD
Addiction Management- Alcohol, Nicotine, Drugs, Sugar
Sleep issues
Have you been curious about trying acupuncture, but haven't made the plunge yet? Group acupuncture is a great first introduction to check out the benefits of acupuncture, and you can even bring a friend with you! Hope to see you soon at one of our Group Acupuncture clinics on Tuesdays 10-12pm or Thursdays 6-8pm. For more information, give us a call at 223-0954 or check out our website.
Chinese Auricular Acupuncture, Abbate, Skya; CRC Press LLC, 2004